The Poptropica Blimp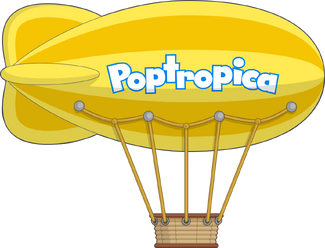 The Poptropica Blimp is a large yellow and gold striped blimp used to navigate the player throughout the islands on Poptropica. When you go into the blimp, from on the island, you are brought to the map to visit other islands. It was created by monkeys during the events of Monkey Wrench Island.
Location of the Blimp
The Poptropica blimp appears in every island up to Survival. This is because every island, until Arabian Nights, follows Survival Island was an episodic island, because adding multiple blimps on an island's different episodes would be odd, especially considering that some of them take place fully in buildings or areas in similar positions. Players could access the map (on all of these islands, as well as all of the other SUI islands) through a blimp icon located in the menu.
The blimp, despite Survival being an episodic island, is in Survival, because it plays a fairly large role in the island.
Following the episodic islands (since Poptropica changed back to releasing full islands), the blimp still has yet to have returned, not being in Galactic Hot Dogs Island. However, the blimp returns in Mystery of the Map.
The blimp plays an even bigger role in Monkey Wrench Island. Since the island is the prequel to every other island, the blimp hasn't been created yet. You have to go on an airplane with Amelia, which crashes and lands on the island, similar to Survival. Later, Crusoe gives you blueprints for a Flying Machine, which is really bad. However, the monkeys make the Flying Machine 2, the blimp, which allows you and Amelia to leave the island and win the race and medallion.
Blimp Toy
A toy blimp is available. It is inflatable and contains a small poptropican figure inside the bottom of the blimp. It comes with a promo code that can unlock a mini-island called Poptropica Blimp Adventure where you have to face an evil villain named Dr. Cumulo Nimbus who is destroying islands with his Storm Blimp.
Trivia
Gallery