Poptropolis Games (tournament)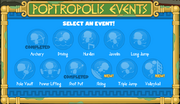 The Poptropolis Games are a tournament put on by the city of Poptropolis every 100 years. The tournament was unplayable when Poptropolis Games sank, but it returned with updated events, namely Skiing and Volleyball.
Events
Archery
Diving
Hurdles
Javelin
Long Jump
Pole Vault
Power Lifting
Shot Put
Triple Jump
Volleyball (2013)
Skiing (2013)
Trivia
Volleyball and Skiing are also known as Octopus Volleyball and Volcano Race, respectively.