Members-Only Cards
| | |
| --- | --- |
| | This page has been nominated for deletion because unneeded page. |

Members-only cards are items only available via paid membership.
Non-Available Items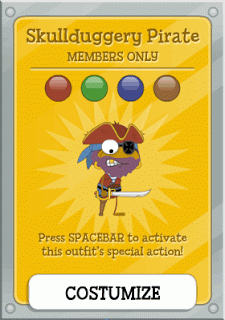 The following items were released for a limited time only and thus, are no longer available.
Skullduggery Pirate Costume
The Vampire Count/Vampire Countess
Lumberjerk Costume(boy/girl)
Beachgoer Costume(boy/girl)
Director Costume (boy/girl)
Virtual Virus Costume
X-Ray Visor (on third week)
Ship Follower (on fourth and last week)
Other
Available Items
Fishing Pole item
Sonar Power
Vampire Bat Popgum
Garlic Breath
Troll (costume)
Dryad Follower
Wrestling Gear
Discus
Plant-A-Statue
Alien Archaeology
Moon Rock
Evil Henchmen
Sleeping Powder
Oompa-Loompa Power
Everlasting Gobstopper
Big Blue (costume)
Safety Flare
Whoopie Cushion
Burnt Orange Tan
The Silent Treatment
Clapboard
Sneezing Powder
Inside-Out Power
Nano-Combat Training minigame
Narf Follower
Glitch Power
Trivia
The Football Fever item was released to celebrate the 2014 FIFA World Cup.
Some members only items have been removed from the store due to being available for a limited time only.