Flying Squid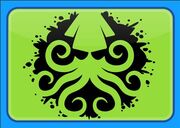 The Flying Squid is one of the eight tribes that competes in the Poptropolis Games every 100 years.
Symbol
The Flying Squid tribe symbol is a green background with a splat of black ink styled to make the outline of a squid.
Creators' Description
| | | |
| --- | --- | --- |
| " | This tribe hopes to have more than an inkling of victory in the Poptropolis Games. | " |
The Flying Squid Common Room has a submarine theme, with a captive giant squid and a large tub of squid ink that can turn you black if you jump into it.